Degrassi Future II
Introduction to Degrassi Futire II
Welcome to the Degrassi Future II this will be fun and entertaining to us to bring back memories and laughter.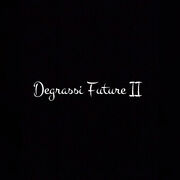 Welcome to this Wiki
This is a wiki, a website that anyone, including you, can edit. Go ahead, try thi out! Use the buttons below to create your first episode and character pages.
Create an article about an episode by typing the title below:

Create an article about a character by typing the title below:

Create an article about a whole season by typing the title below:
Pages created so far